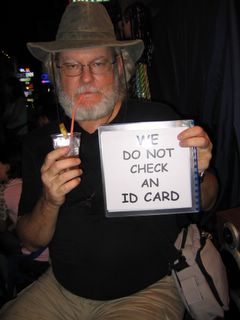 Yours Truly, enjoying one of the strongest drinks you can get anywhere in the world, for less than US$2.00- Bangkok of course. This drink was purchased at one of the many portable bars (which is more like a cart) where they don't check "an ID card"

One of our 3 Thai friends who took us shopping in the famous Chatachuk weekend market. The place is unbelievable, not to mention huge.

Hui-Chen is obviously very happy with the prices she found at the silver jewelry store.
(Visited 32 times, 1 visits today)