A super typhoon is now threatening northern Luzon, Philippines.  This powerful storm is going to either directly hit, or pass very close to, Taiwan.  Here is the summary: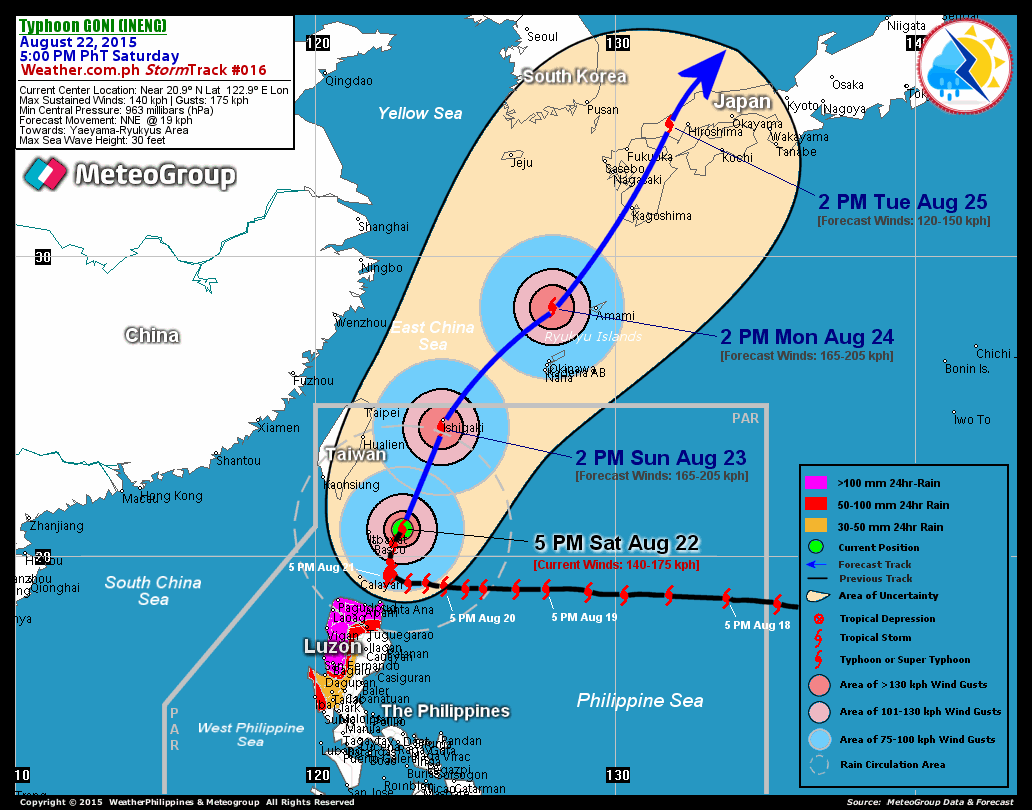 The satellite photo:
The very well defined eye is an indication of the power and strength of this storm.  The tighter and more defined, the more powerful the storm.
SEPAT (EGAY) RAPIDLY INTENSIFIED TO A 240-KM/HR, CATEGORY
FOUR SYSTEM…BECOMES THE SECOND SUPER TYPHOON OF 2007
…
THREATENS EXTREME NORTHERN LUZON…STORM SIGNAL NUMBER ONE
NOW HOISTED OVER SELECTED PROVINCES IN EASTERN LUZON (SEE
BELOW).

*SEPAT continues to display a 22-km. Cloud-filled Eye, with
intense, central convective shield (from the EyeWall thru
the Inner Bands) measuring approx. 240 km across.

+ FORECAST OUTLOOK: SEPAT is expected to start moving NW'ly
for the next 06 hours before accelerating slightly towards
Batanes-Taiwan tomorrow morning. Within the next 24 hours,
this system might reach Category 5 strength with projected
wind speed of 260 km/hr – making it a very dangerous
Typhoon. SEPAT shall pass close to the northeast of Batanes
Group of Islands by Friday afternoon with winds down to only
240 km/hr. The 3 to 4-day forecast shows SEPAT making landfall
over Southern Taiwan early Saturday morning, Aug 18 around
2-3 AM HK time. It shall be off SE China (2nd landfall) as
a weakened Category 3 or 2 Typhoon – early Sunday morning,
Aug 19. This system shall dissipate off the mountainous
region of China on Monday, Aug 20.

technorati tags:Taiwan, typhoon, SEPAT, EGAY
Blogged with Flock
(Visited 30 times, 1 visits today)