I can't believe that its been four months since I posted the "Coming Soon" preview to this entry. It just goes to show you how fast time seems to be moving. Since that time I have been in Thailand twice and cancelled our trip to Singapore this week. I'll be going back to Thailand next week but that's another story altogether!
First, to recap the previous post and give you the details of the shots:

Hui-Chen and MJ at the Black Dragon River, on the China/Russia border in the far northeast. I was here last year and took a solitary photo, but this time Hui-Chen got to join me. The Heilongjiang is the area of China that recently suffered a chemical plant explosion and a coal mine explosion. We ate fish from this river that later carried a toxic chemical spill into the Russian Republic. Timing is everything!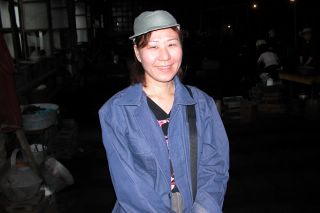 Hui-Chen The China Factory Worker! We were working in an iron foundry, developing a new product. They gave us these factory clothes to put on over our street clothes for protection and I just couldn't resist snapping this shot!

The beautiful Hui-Chen on Kowloon, with Hong Kong Island in the background. You see this kind of shot in the movies a lot, and now you know that its taken from Kowloon and not Hong Kong. "Kowloon" is a Cantonese pronunciation of "nine dragon" which is the actual name of the place.

Lovely Hui-Chen on the south side of Hong Kong Island. You seldom see this side in the movies, but here it is. Unfortunately there isn't as much to see on this side. Its still cool though, and worth the trip up to the top of the mountain. The ride up is very scenic.
Now, for the new shots:

To get across from Kowloon to HK Island, one can take many of the inexpensive ferries across the harbor. They run very frequently.

Some of HK's famous high-rise apartment buildings on the way to/from the airport to the city. When there isn't much ground space, you have only one direction in which to build: UP! Consequently, HK engineers are very experienced in the design and construction of tall buildings. Some of the apartments make me dizzy looking at them.

This area has one of the largest shipping ports in the world. The number of containers is staggering.

On the road into the city, you can see the "Golden Gate Bridge of Asia." This shot was taken on the way back to the airport from HK.

This bridge is actually longer than the Golden Gate, and as you can see, has several sections. Its very beautiful in person and photos don't do it justice.

Another shot of the bridge, taken out of the window of a double-decker bus on the highway, as we were leaving HK.

The view on the bridge, from the double-decker bus.

The entire time we were on the double-decker bus, I had to dodge this moron, who was blocking my view and preventing me from taking photographs because he was using his mobile camera phone. Why do people do that? Don't they get it? He was actually shooting video with it. How the hell is he going to show it to anyone? I'm sorry to say but, things like this can really ruin a trip for me. His pal was yelling on his mobile phone the entire way. I think he was speaking Farci.

Hui-Chen snapped this shot of Nathan Road in Kowloon. Nearby is a really nice night market. Good prices and great food.

HK airport is one of the busiest in the world. Here you can see the food emporium on the upper level, and duty-free shopping on the lower level. They have just about anything and everything here.

This is a pan of HK taken from Kowloon. Its impressive!

This is Hegang, China, in the Heilongjiang (Black Dragon Province). The city is powered by coal and here you can see the coal dust and steam rising in the background. The streets are lit mostly by fluorescent lights on trees.

Walking around at night, we felt pretty safe. Just one year ago I was told that I could not go outside by myself. On this evening, Hui-Chen and I walked around and talked with some of the local people who assumed that I was Russian (since the border is nearby). Many people were incredulous to learn that I am an American, as they had never met one before.

This is Hui-Chen with a stone that was handled by the Black Dragon according to legend. This rock has some strange impressions that certainly look like claw marks! The Black Dragon has long white hair and a white beard. There is a representation of him in the Black Dragon temple near this rock. Many people were pointing to me that day and commenting. I wonder why….

Outside of the highly publicized industrial areas, China is mostly rural with a pretty low standard of living compared to the rest of the world. The Taiwanese people who were with me on this trip laughed out loud when they saw this truck. They spoke in English and told me that Taiwan had trucks like this 30 years ago. They didn't want to embarrass our Chinese hosts so they did not say this in to me in Chinese. No matter what you've read folks, China is light-years behind Taiwan and the rest of the world.

Many people drive little cars like this one. Hey, its better than a motorcycle, and this qualifies the owner as "rich." Many of these 3 wheelers are taxis.
(Visited 10 times, 1 visits today)