Or, another country that hasn't yet given up on Communism….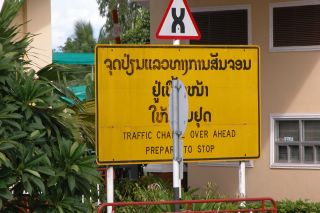 One of the most bizarre international borders on the planet – left-side travel roads of Thailand directly connect with right-side travel roads of the Lao PDR. The sign says "TRAFFIC CHANGE OVER AHEAD PREPARE TO STOP."

One must cross the Thai-Laos Friendship Bridge (built with Thai money) to get to Laos from Thailand at Nong Khai. In this view, Thailand is on the left and the Lao PDR is on the right.

Up until last month you could make a ferry crossing from Laos and land here in Thailand. Now this landing has been moved up river a few hundred meters to a new government building.

Once across the Mekong River and the Thai-Lao Friendship Bridge, a quick spray of the tires with a chemical to kill any bad bugs brought into the country by the bus from Thailand, and its off to Passport Control.

After the crowded bus ride over the bridge, and then being jacked up for roughly US$36 for a visa-on-arrival (how else can these commie countries make money?) its onto Vientiane, about 25 KM northwest from Nong Khai, Thailand. We paid 100 Thai Baht for this ride in a local tuk-tuk. The driver pool insisted upon more but I knew it should only be 100 Baht. A by-standing driver overheard my bargaining and offered to take us both immediately for 100 Baht. It pays to stand your ground on bargaining.

Pretty typical southeast Asian street scenes on the way to Vientiane. Laos considers Thailand to be a rich country.

Most of the buildings look rather run down, but never the temples.

Once on the streets of Vientiane – WATCH YOUR STEP! There are open holes everywhere!

We went to the local currency exchange and traded in 2,000 Thai Baht for PDR currency. See the pile of rubber bands? Those come in handy to manage the roll of cash you will get back! Here Hui-Chen is shown counting more than 500,000 in Lao PDR currency (called "Kip"). When making purchases, the currency you use can make a huge difference in the price. Lao merchants prefer US dollars (who doesn't?) and Thailand Baht to their own currency. We used Baht and got better prices than with Kip.

Foreign influence is everywhere. As soon as you seen signs for "guesthouses" instead of hotels you know that its a farang town. There is a lot of French influence as this entire area was once a French colony. The old name for Vietnam is "French Indochina" remember? We saw so many restaurants with French bread and pate that we thought we were in Europe.

Check out the prices! 14,000 Kip for Fruit Salad and Muesli! Yeah, I'll take 2 please.

As I said – lots of foreigners.

This is another foreigner in the Lao PDR. This foreigner wasn't eating anything French however. The beer is local – BeerLao.

We looked around and found a really nice Lao food restaurant. The bill was in 3 currencies – US dollars, Thailand Baht and Lao PDR Kip. That was a first for me! I've had bills in 2 currencies before but never 3. We paid in Baht and got a mixture of Baht and Kip in change. Clever because we had no earthly idea if the change was correct. I suggest you bring a calculator to dinner with you.

To turn on the light in our hotel room, one has to feel around in the dark and try not to electrocute themselves on the open breaker to the right. I forbid Hui-Chen from turning on the light upon entering the room. Sorry to have to be so demanding.

What do you get when you put a shower head, a hot water heater with open wiring, and an open breaker on the same wall, all within reach of each other? A method of execution! Again, the bastard that I am, I wouldn't let Hui-Chen turn on the bathroom light, and I also insisted that she stand to the far end of the bathroom when showering and face the shower head toward the opposite wall. I'm so mean.

Check out the gas prices in this Lao PDR Shell station.
We liked the Lao PDR even though they didn't like Hui-Chen's Taiwan passport very much. We want to go back there and do some more shopping and sight-seeing. Our 24 hour visit was much too short.
(Visited 21 times, 1 visits today)